The May 15, 2018 Tornado/Macroburst devastated our community. Many homes were lost and families were displaced. The giant oak tree that stood in the middle of Ridge Road and withstood storms for over 300 years, did not survive this storm.



Eversource reported the May 15th Storm caused more damage to the electrical system than Hurricane Sandy. While Sandy impacted the entire state, this storm did all of its damage in a small geographic area.

The devastation was dense. The town of New Fairfield sustained more damage than other towns, and Candlewood Isle was one of the hardest hit areas within New Fairfield.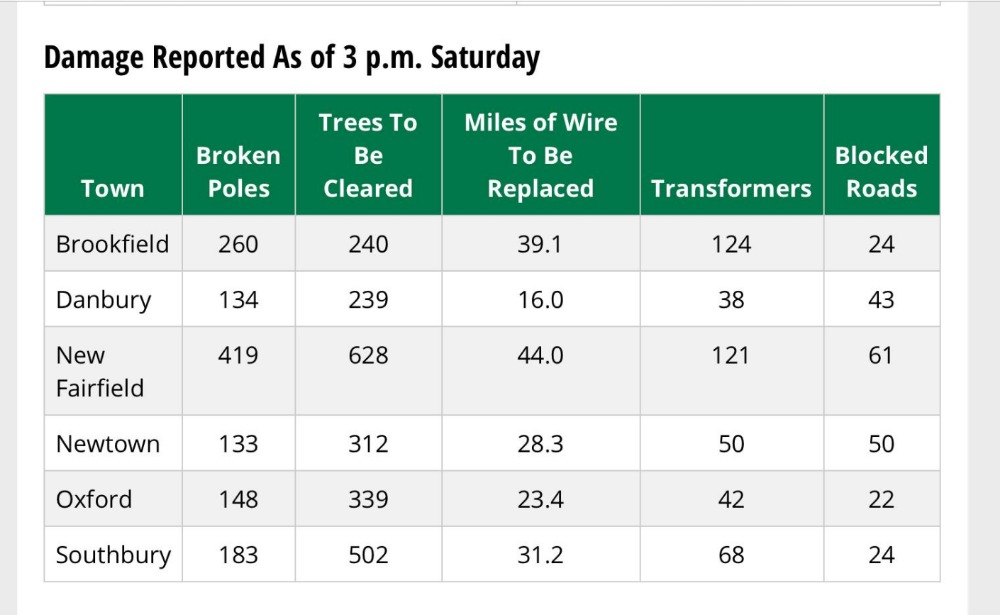 Our cherished little community came together and shined in its worst moment. Residents and volunteers took to chainsaws to clear the roads so that emergency vehicles could get through. Neighbors took in neighbors needing everything from oxygen, water, cell phone service, a shoulder to cry on. Visitors took notice of our sense of community :


After starting in Bethany, [Steve] Blair worked with crews in Beacon Falls, Naugatuck, Oxford and New Fairfield, where on Candlewood Isle, a densely populated lakeside community, he says he witnessed the greatest damage. "Bethany was bad, and Beacon Falls was bad, but the award goes to New Fairfield. It's awe inspiring, if you think of what the wind can do."

Blair says he "was pleasantly surprised by the reaction from our customers. They were happy to see us and they were very supportive. I expected to hear a little pushback — 'When are our lights gonna be back on,' or 'Oh, we've been out for two days,' things that we've heard with other storms. It didn't happen on this storm. People were very supportive. They offered us coffee, and food and water." He adds, "This is probably the storm restoration I'm most proud to be a part of. I saw crews from all over the country work together safely. I was glad to be able to help these people that desperately needed it." From Connecticut Magazine


For those here on May 15, it seemed safe to say we wouldn't get power back for months. 94 poles and 26 transformers needed to be replaced. Miraculously, crews from all over the country worked day and night and had us back up and running in two weeks.

Isle resident, Jami Cheneski, created a video tribute to the crews. The video was shown to the Eversource Board of Directors and regional offices. 

Full Screen Video

Eversource responded: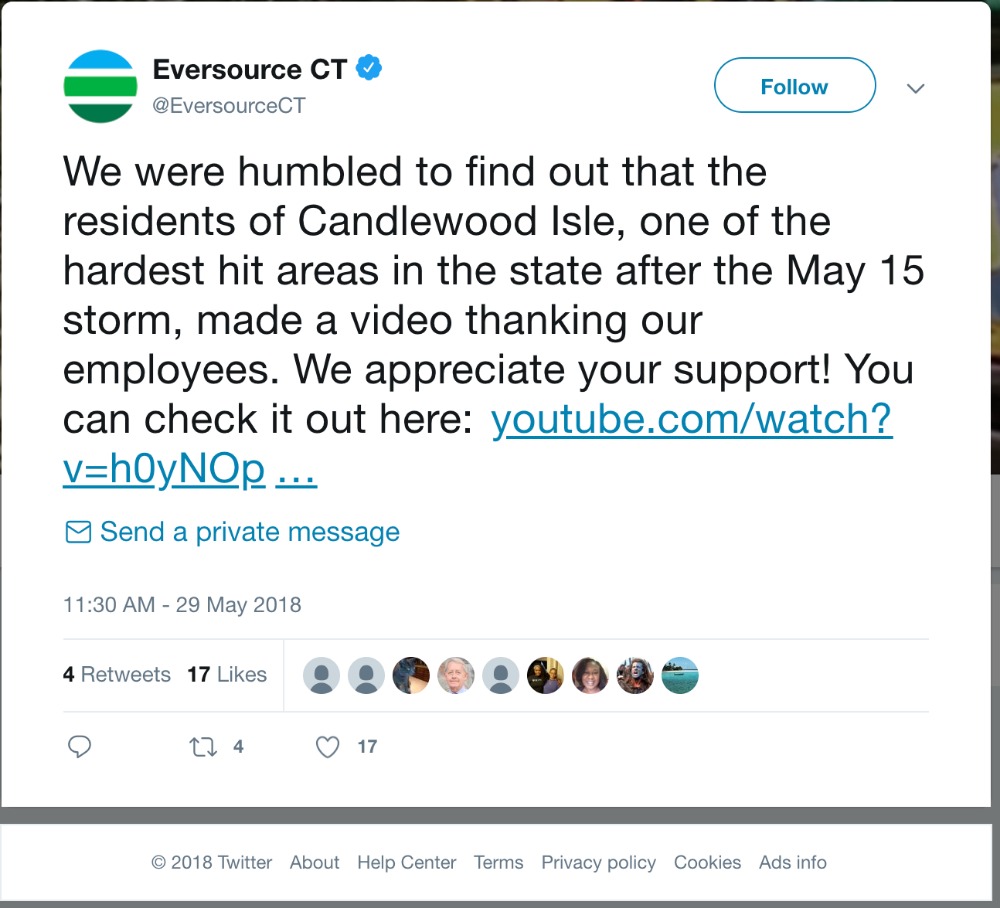 Our community has come a long way since May 15th. Clearing roads and restoring power and telecomm service was the first step. We've made a lot of progress but we still have a long ways to go. The purpose of this section of the web site is to keep residents informed of the progress being made. This has been and continues to be an "all hands on deck" effort. If you are interested in helping with any of the initiatives, please email Joan at
[email protected]